Chaga mushroom contains a large number of polysaccharides in the form of β glucans, which have a strong antioxidant activity inside your body. These compounds help fight off free radicals and maintain a normal cell cycle. Also, they act as prebiotics to stimulate the growth of healthy gut microbiota. On the Oxygen Radical Absorbance Capacity (ORAC) scale, chaga is an ultra-potent source of antioxidants and is naturally rich in betulinic acid. On a cellular level chaga benefits your health by assuring normal vital functions.
Recent scientific studies demonstrate the effectiveness of chaga in treating a number of diseases and afflictions. The Memorial Sloan Kettering Cancer Center lists the purported uses of chaga as treating and preventing cancer, stimulating the immune system, reducing inflammation, and protecting the liver. The majority of research, though, has been performed in lab studies, or with mice or rats. Few studies involve human subjects. Russia, Japan, and Scandinavia are leading the way in conducting research and determining the exact health benefits of chaga.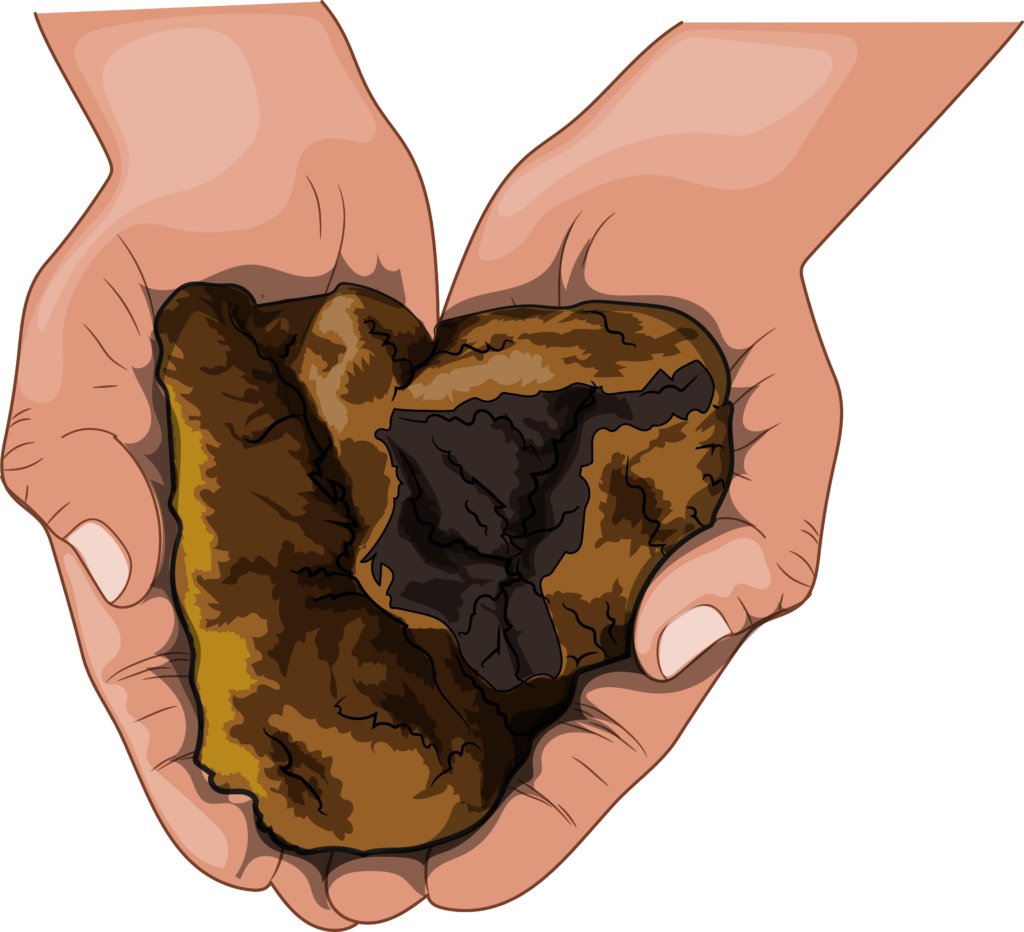 All uses of the chaga mushroom by indigenous peoples, traditional medicine, and holistic doctors include:
boosting the immune system
treating cancer by fighting off cancer-cells
aiming digestion
alleviating pain from toothaches
improving lung health
detoxifying the body
treating joint inflammation, particularly rheumatism and arthritis
curing tumors
treating viral infections
managing cholesterol
regulating blood sugar
antibacterial
lowers blood pressure
prevents drug/alcohol side effects
improves overall health and well-being
---
FEW OF THE CHAGA HEALTH BENEFIT STUDIES CONDUCTED BY SCIENTISTS RECENLTY:
A hot water extract of chaga inhibited the growth of colon cancer cells.


Chaga demonstrated anti-inflammatory and pain-reducing properties in rats with acute edema (swelling).


A chaga broth administered to diabetic mice exhibited abilities to lower blood glucose levels and improve antioxidant activities.


An extract of chaga reduced inflammation in mice with colitis (swelling of the colon).


Chaga administered to mice showed enhanced cognitive ability, better memory skills, and increased learning ability.


Anti-viral properties of chaga were demonstrated in fighting herpes infections.


A chaga extract showed promise in treating several cancers, including cervical and colon cancer, leukemia, and liver tumors.


Polysaccharides in chaga exhibit immunomodulating properties. Immunomodulation is the ability of the immune system to self-regulate. Some conditions, like irritable bowel syndrome, psoriasis, rheumatoid arthritis, lupus, and multiple sclerosis, are caused by overactive immune systems. Other diseases, like bronchitis, pneumonia, skin infections, anemia, and meningitis, are caused by weak immune systems. A robust self-regulating immune system is essential to human health.


The immunomodulating properties of chaga demonstrated the potential in combating HIV. It has been published that chaga compounds have an antiviral effect against Hepatitis-C (HCV) and HIV.
---
List of minerals, vitamins, and nutrients found in chaga mushroom:
calcium, cesium, copper, fiber, iron, magenium, magnese, potassium, rudidium, selenium,
vitamin D, zinc.
CHAGA USE FOR TREATING CANCER
As mentioned previously, there is no set standard as to how much chaga tea is best to consume. There are many supplements available that will suggest dosage amounts.
Alleviation of oxidative stress aka significant reduction in levels of intracellular reactive oxygen species (ROS), which in turn reduces apoptosis. This means that the polysaccharide compounds found in Chaga moderately arrest the cells at G1 stage where the cell can focus on maintaining it's healthy properties, thereby inhibiting cell proliferation that may lead to DNA damage and cancer formation.
Globally, chaga mushroom is known to be one of the most powerful sources of antioxidants, therefore demonstrating positive effects on cell cycle and apoptosis. This is largely thanks to the identification of chaga mushroom polysaccharides which comprise xylulose, rhamnose, mannose, glucose, inositol, and galactose.
In addition to phenolic compounds, the 3 most powerful metabolites that boost chaga mushroom health benefits are betulin, betulinic acid, and inotodiol. Some research studies suggest that thelevels of betulin and betulinic acid are higher in French chaga than in other chaga, whereas the Canadian chaga contains higher levels of inotodiol.