Both Chaga and Lions Mane are famous functional mushrooms. They are different by nature, like in taste and texture, how we can source them, as well as health-promoting qualities, yet both of them possess strong health benefits for the human body. In this article, we'll take a closer look at Chaga vs Lions Mane, and how consuming either of them helps to support your health.
What are Functional Mushrooms?
Functional mushrooms have gained their name due to being different from other edible or culinary mushrooms we consume as food. The history of functional mushroom use takes us back thousands of years when these unusual species were harvested, dried, and used for traditional medicine practices in many eastern cultures.
As a group, functional mushroom species provide the following benefits:
Anti-inflammatory compounds, that support healing and promote healthy aging
Contain prebiotic fibers, that promote the growth of healthy gut flora, hence results in supporting digestion and balancing sugar levels.
Rich in antioxidants that help to neutralize free radicals, prevent damage from oxidative stress, and are therefore anti-aging
High in immune-supporting polysaccharides.
Still, it's important to note that not all functional mushrooms are the same nor have the same benefits to your health.
Lion's Mane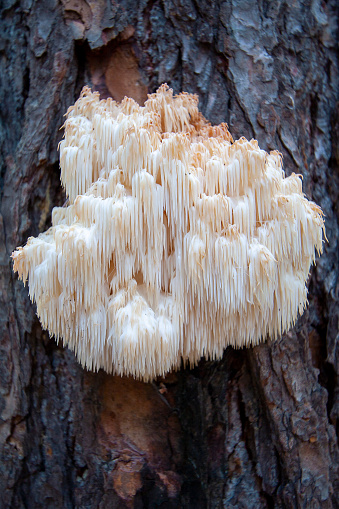 Lion's Mane or in scientific nomenclature, Hericium Erinaceus. The name gives you a good indicator about the look of this shaggy mushroom, that grows on hardwood trees. The mushrooms are native to the mountains of northeast Asia and may also be found in North America and Europe.
It's an important species in the traditional medicine of China, Korea, and Japan, where it has been used for thousands of years. The mushroom's recent fame can be contributed to its other nickname, the "smart mushroom". Lion's Mane is a natural nootropic and has exceptional brain supportive potential due to the power of two types of compounds, Hericenones from the mushroom fruit body and Erinacines from its mycelium.
Lion's Mane mushrooms can be enjoyed either raw, cooked, dried, or steeped as tea (otherwise known as water extraction). The mushroom extracts are often used in over-the-counter health supplements. If you wish to reap the most benefits from this superfood, it's best to consume it after a double extraction process. Many describe Lion's Mane as tasting like seafood, often comparing it to beings like crab or lobster.
Related: Double extraction recipe
Chaga Mushroom
Whereas Lion's Mane's unique properties support your brain and nervous system, Chaga is famous for its adaptogenic potential.
Chaga is a polypore fungus that grows mainly on birch trees in colder climates. It's parasitic, therefore uses the living birch trees as hosts. The fungal mycelium enters the stem of a mature tree through a crack or a wound in the bark and then starts to absorb and synthesize healthy compounds that we, later on, wish to consume.
Natural healers and traditional medicine practitioners have been aware of this mushroom for centuries. Recent scientific studies demonstrate the effectiveness of Chaga in treating a number of diseases and afflictions. The Memorial Sloan Kettering Cancer Center lists the purported uses of Chaga as treating and preventing cancer, stimulating the immune system, reducing inflammation, and protecting the liver.
These particular medicinal mushrooms are not edible in the standard method. Instead, Chaga's properties need to be extracted. The extraction requires prolonged simmering or soaking. This process makes the beneficial components of Chaga Mushroom bioavailable to the human body, meaning the body will be able to absorb the nutrients.
Related: Chaga Mushroom Extraction Methods
These mushrooms grow best on the outside of yellow and white birch trees. You can find Chaga mushrooms in abundance in the northern hemisphere where it has higher forest altitude, like the northern deciduous forests. Chaga thrives in cold, damp conditions, and has a great tolerance for surviving hard winters.
Chaga vs Lion's Mane, which one to consume?
As mentioned Chaga and Lion's Mane are both functional foods or medicinal mushrooms but provide different health benefits. Lion's Mane has gotten worldwide recognition due to the mushroom's nootropic qualities, natural nootropic, and has exceptional brain supportive potential thanks to two types of compounds —Hericenones from the mushroom fruit body and Erinacines from its mycelium.
If you're looking for a healing, then Chaga's anti-inflammation, immune-boosting, digestion aiming, detoxifying properties are more up your alley.
Before picking one over another, figure out which processes in your body you'd like to support. If preferred the mushrooms can also be taken together, but make sure each of them is extracted using correct methods.
Chaga vs Lion's Mane accessibility
When it comes to Chaga, it's important to remember that Chaga gets most of its nutritional value from its host – the Birch tree. The medicinal value of Chaga that has been harvested from trees other than birch may be entirely different. You should especially pay attention to your Chaga being wild harvested, as we've heard of Chaga grown in laboratories.
This has become a bigger issue over the last few years, as Chaga has gained more mainstream popularity. Business motivated corporates are trying to cut corners and grow Chaga faster and more efficiently indoors. This means that your bought Chaga possesses no health benefits but is most likely marketed as a health product.
Lion's Mane on the other hand is an easy medicinal mushroom to grow. You can do so at home, either indoors or outdoors, using a Lion's Mane grow kit. These are available online, and you might get lucky to discover a supplier in your area. Grow kits come with an inoculated and colonized substrate block, meaning you can start the fruiting process as soon as you get your grow kit.