For centuries people in Eastern Europe have been drinking Chaga tea for its many health benefits. The tea is made from the Chaga mushroom, which typically grows on the trunks of birch trees in the Northern Hemisphere. The Latin name for the Chaga mushroom is Inonotus obliquus. Can drinking too much Chaga tea be dangerous to your health?
Chaga tea is rich in antioxidants, which makes it an incredible superfood. To access the health benefits, the fungus must be processed by heating, which makes the nutrients bioavailable for human consumption. It has been said that a cup or two of Chaga tea in a day is good for boosting your health. When dealing with a serious health concern, we've heard people drinking up to six cups of tea daily. Chaga can interfere with other medications, so starting slow and monitoring how your body reacts to it is important. A healthy individual needsn't worry whether drinking too much Chaga tea can be dangerous.
How to make Chaga tea?
To make Chaga tea, first, the mushroom needs to be harvested. Cut the Chaga into chunks while it's still fresh and moist before leaving it to dry over a few days. Once your chunks are dried, tea can be made with either powdered Chaga or by adding little pieces into boiling water. After making a batch of tea, strain out the Chaga and leave it to dry since it can be reused a few times.
Related recipe: Chaga tea with honey & ginger
Chaga health benefits
Researchers are seriously looking into the possibility that Chaga mushrooms may be able to prevent cancer and slow its growth.
Chaga is rich in antioxidants, which help prevent cell damage caused by free radicals or oxidants. Oxidative stress occurs when the body cannot produce enough antioxidants to prevent this damage. Oxidative stress can cause cancer and a host of other health problems.
The fungus is a natural anti-inflammatory, helps lower blood sugar, reduces blood pressure, alleviates arthritis, and even supports preventing and slowing down the progression of cancer cells.
The mushroom has been famous for its many benefits, like helping regenerate damaged skin cells and nurturing the skin with enzymes. Due to its high antioxidant value, Chaga helps your body fight free radicals. The antioxidants are found in the outer layer of the mushroom, called Sclerotium, which has a very high melanin content. That helps to protect your skin from UV damage. As a natural anti-inflammatory, it has been used to treat many skin inflammation areas like psoriasis, eczema, allergic rashes, and more.
Can Chaga be harmful?
Drinking too much Chaga tea as a healthy person is not dangerous. Chaga is a safe mushroom to consume for the majority of people. For centuries, Chaga has been used in folk medicine and by traditional practitioners without any ill results. Yet some people should not take Chaga or consume it with extreme caution since consuming Chaga can be dangerous for them.
Chaga can be unsafe for:
pregnant women
breastfeeding
people on diabetes medications
people dealing with low blood pressure
anyone who has dealt with a kidney disease
people on blood thinners
people living with an autoimmune disease
anyone living or working in extreme conditions
people on other medicines
Related: Oxalates in Chaga and how they affect your kidneys
Should you boil Chaga?
Chaga mushroom is a living organism. Chaga won't turn toxic when boiling, but it loses some of its nutrients. We recommend you experiment with the length of brewing to adjust it to your taste. The longer you let your tea simmer, the richer the color, flavor, and potency. Some people like to let their tea simmer over several days.
Related: Does boiling Chaga ruin it?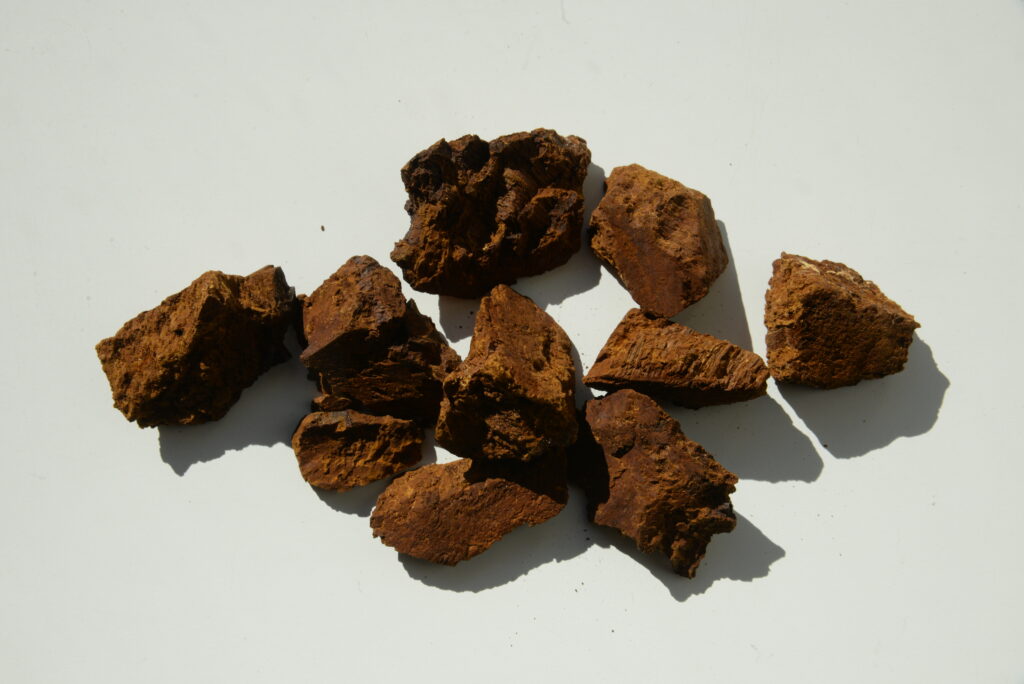 How many times to boil Chaga?
Chaga nuggets can be reused five times. Avoid letting the water boil while the fungus is in it. When you finish brewing a batch of tea, strain out the Chaga chunks and set the nuggets on the side to dry. Once they're all dried up, store the pieces in a cool, dry, and dark place.
Does Chaga go bad?
Homemade preparations like tea should be stored in a refrigerator for 14 days. Chaga tinctures are the best for long-term use; their shelf life is around two years.

The biggest problem with harvested Chaga is mold. There are two most prevalent types, of which the more common is a white mold on the Sclerotium – black outer layer and a greenish-blue mold in the inner layer. Both develop with improper processing and storage. Once again, when your Chaga is dry, you want to store it in a cool, dry place away from direct sunlight.

Drying Chaga is simple, don't let the temperature exceed 50 degrees Celsius. You can either use a dehydrator; dry them in an oven, keeping the oven door open for airflow; find a dry spot close to a heater or a wood burner, and set the Chaga to dry safely. Experiment with the tools available for you. The drying process will usually take around a few days. A tip for testing the moisture level is to touch some to your lip. When stored properly, dried Chaga can last for years.
Proper storage of Chaga
It's important to note that when Chaga is treated right, it does not lose any of its medicinal or health properties over time. Meaning that well-dried and stored Chaga can last you for years. When it comes to storing Chaga requires to be kept:
At room temperature in a dry environment
Away from direct sunlight
In a clean container or a washcloth
Ideal Chaga storing containers include glass jars. Depending on your home's humidity levels, vacuum-sealed jars might be the best option.

The most foolproof option would be to leave your dried chunks in a glass jar and store it in your cupboard. Another option would be freezing your Chaga, which will help keep it fresh over a longer period. Avoid sun exposure and other contaminants.