Chaga tea is a heated preparation of chaga. The fungi is combined with water, and simmered for a period of time. For people avoiding alcohol, chaga tea is the preferred method to consume the mushroom. The teas are also less potent than the tinctures, which means they can be consumed more regularly.
While it's not hard to find pre-ground chaga, a lot of users prefer to purchase chunks to ensure the quality of the product and store it more conveniently. If you harvest your own chaga or have bought chaga chunks, it's easy to grind them into powder yourself either in a food processor, a coffee grinder or manually with a mortar and pestle.

Once you have crushed the still moist chaga, make sure not to leave it in an air sealed jar. Pour the powder in a wide pot or on a baking tray and stir it occasionally with a wooden chopstick. If you have a bigger amount of chaga powder, you can pour it on an old newspaper sheets and leave it to dry on the table for at least a day.
---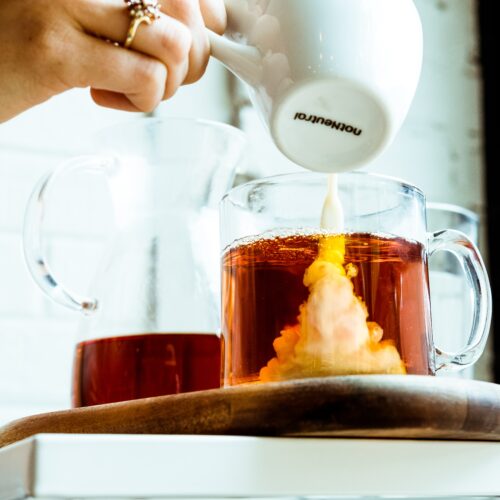 Chaga Tea with Honey & Ginger
Ingredients
80

grams

Chaga powder

1

litre

Water

4

tbsp

Honey

1

tbsp

Grated ginger

1/3

cups

Plant-based milk
Instructions
In a medium saucepan, combine the chaga mushroom powder with water.

Bring it to a low simmer.

Add a tablespoon of grated fresh ginger.

Turn off the heat and let it cool down a little.

Add 4 tablespoons of honey and top it off with a dash of milk.
Notes
The honey & ginger chaga tea is a nice way to warm up, and boost your immune system when feeling a little under the weather. We suggest to make it your go-to drink during a flu season! 
Feel free to swap out the honey for a plant-based option like agave or maple syrup, and adjust the recipe to taste. 
HOW MUCH AND HOW OFTEN TO DRINK CHAGA TEA?
Everyone is different, and there is no standardised limit or dosage of this tea. It's best to start with a small amount to make sure there are no adverse effects. Chaga tea shouldn't cause any problems, but as with any new food, it may cause an allergic reaction or stomach upset in some people. If you are concerned, please consult your doctor before drinking any chaga products.
Start with 1-2 teaspoons per day for basic immunity properties. It can be consumed on its own or added to coffee or tea. If you add it to coffee, it's unlikely you'll even taste the mushroom at all.
Some people drink an 8-oz cup of tea per day.
If you're interested in taking chaga for health, immunity, or treating a disease, it is always best to consult a doctor beforehand to ensure it is the best choice for you. The research on chaga is ongoing, and as of now, there are no approved dosages of chaga tea or supplements.