CHAGA HEALTH
Chaga Health established in 2014, in Estonia where chaga grows naturally in the 4.5 million hectares of forest. On the Chaga Health's website, you can trace the origin of the raw material, as well as the people behind it, for all their products.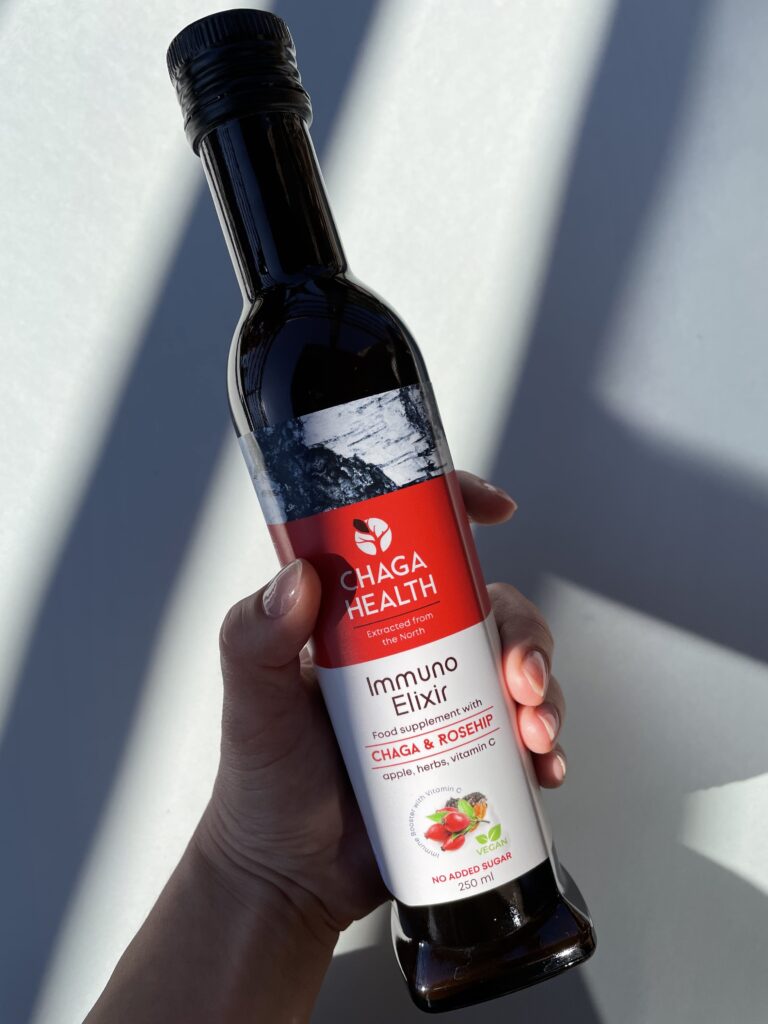 IMMUNO ELIXIR
We tried out the Chaga Health's Immuno Elixir, which contains 48% chaga extract, 38.2% rosehip puree, 12% apple concentrate with pine buds extract, yarrow flower part extract and vitamin C (200mg/per 50 ml daily serving).

They're using double water extraction in all their Immuno Elixirs.

It's also important to mention, there are no added sugars in the Immuno Elixir. All their products are also available in an organic form as well. The ingredients are used to strengthen the organism and help to prevent various diseases. Strong immunity is the key to staying healthy!

The Immuno Elixir Chaga & Rosehip is their only vegan elixir for now.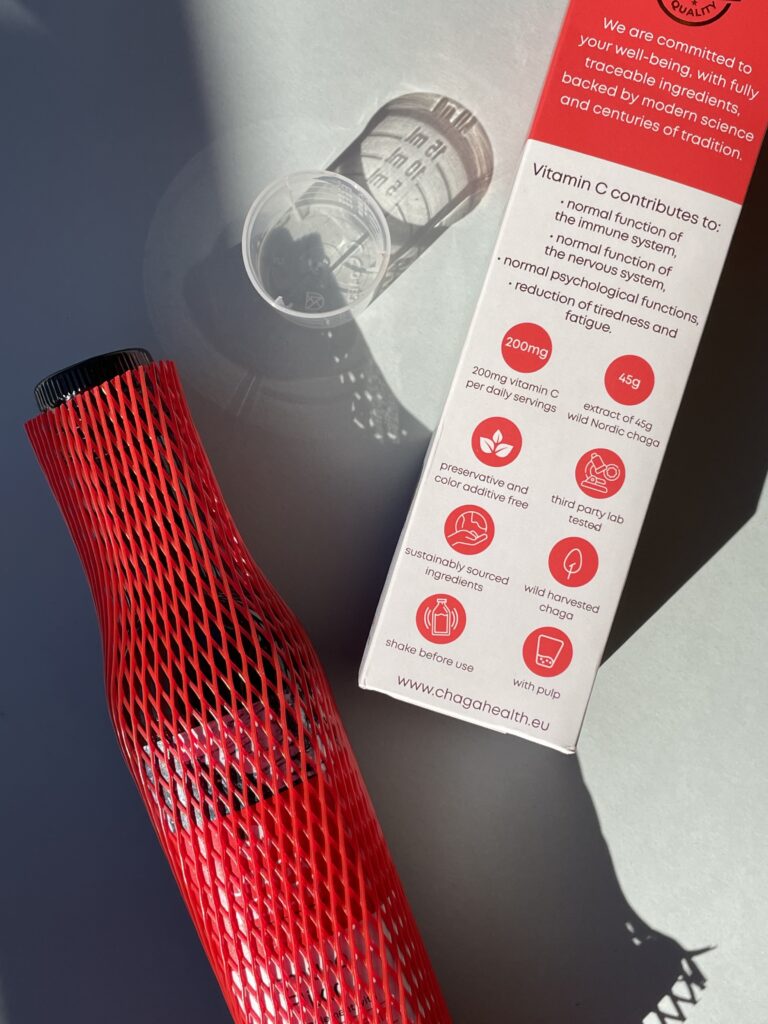 Consumption recommendation
One dose for an adult 25 ml before meals twice a day,
maximum daily dose 50 ml.
The Immuno elixir comes with a 25 ml measuring cup, which makes it easy use and has been packaged travel safe.
---
HIGHLIGHTS OF THE PRODUCT:
Extra benefit of 200mg vitamin C
(per daily servings)
Preservative and colour additive free
Sustainably sourced
Wild harvested chaga
THINGS TO NOTE:
Make sure to shake well before each use
(otherwise you'll end up with thick pulp, when finishing the bottle)
The amount of plastic that comes with each product
Recommended to consume within 10 days of opening the bottle (keep refrigerated)
EDITORS TAKE
I tried out the Immuno Elixir for five days with the daily recommendation of 2x25ml, and did notice an improvement in my mental clarity. I found the Chaga Health's product to be a convenient way to get in your daily chaga intake, and actually enjoyed the earthy rosehip flavour of the Elixir.
MORE ABOUT CHAGA HEALTH LTD
Chaga Health's range comes in fully organic and non-organic formulations. On the local market the 250ml Elixir is priced 14€ (organic 19€) and the 500ml 25€ (organic 35€). We have yet to try out the Immuno Elixir with chaga & sea buckthorn, Immuno Elixir with chaga & blackcurrant, their organic Immuno powder and the organic Estonian chaga (chunks and powder).

The head of Chaga Health's export affirmed that they have plans to launch with international online resellers, and that they're on the lookout for more conventional and e-commerce retailers in the UK.