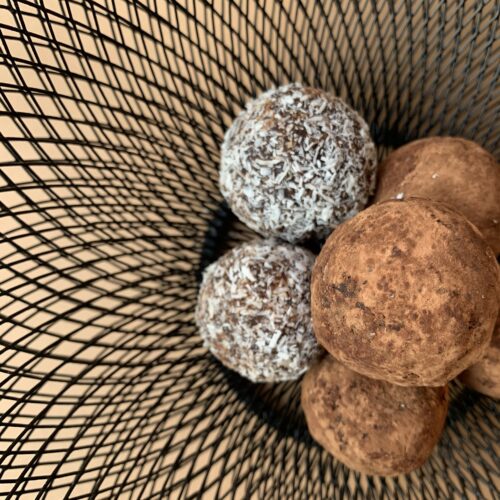 Chaga Energy Bites
Chaga energy bites are a simple way to increase your daily antioxidant intake, boost vitality and even satisfy your sweet tooth in a healthy way! The recipe takes around 10 minutes to complete and depending on your preference, makes around 10 bite size balls.
They're easy to pop into a bag, to have with your morning coffee or as an afternoon pick-me-up!
Equipment
Food-processor (or blender)
Ingredients
1/2

cups

Dates

1/2

cups

Shredded Coconut

4

tbsp

Peanut Butter

1-2

tbsp

Chaga extract

1

tbsp

Raw Cacao Powder

1

pinch

Salt
Instructions
Part I
If using dried dates, you may wish to let them soak in warm water for 15 minutes.

Drain the water and place the dates into a food-processor (or blender)

Measure out the peanut butter, shredded coconut, chaga extract and raw cacao.

Add all ingredients to the food-processor, topping it off with a pinch of salt.

Blend until the consistency is nice and smooth. Make sure to have a taste and and adjust the recipe to your liking.
Part II
Prepare two plates, one with 2 tbsp of shredded coconut, the second with raw cacao powder.

Scoop one tablespoon of the mixture into your hands and begin rolling it into a bite-sized ball.

When happy with its shape, place the ball onto either of the prepared plates, gently rolling it around until it's evenly coated.
Notes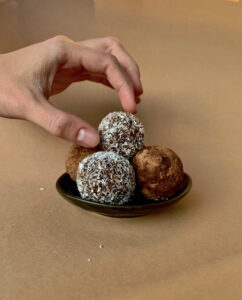 For an added crunch, you can also add some peanuts (or any nut) to the mixture prior to blending.
If you don't have peanut butter handy, feel free to use any kind of nut butter.
It's best to preserve the bites in an air-tight bag/container and keep them refrigerated.