Chaga hot chocolate is an excellent way to get in your daily antioxidants in delicious and comforting way. Chaga contains a large number of polysaccharides in the form of β glucans, which have a strong antioxidant activity inside your body. These compounds help fight off free radicals and maintain a normal cell cycle. Also, they act as prebiotics to stimulate the growth of healthy gut microbiota. Read more about the health benefits of chaga here.
We've added cinnamon to the chaga hot chocolate recipe, for extra health benefits. Cinnamon contains antioxidants with anti-inflammatory effects. The anti-microbial, anti-parasitic properties of cinnamon make it one of the healthiest spices of all time.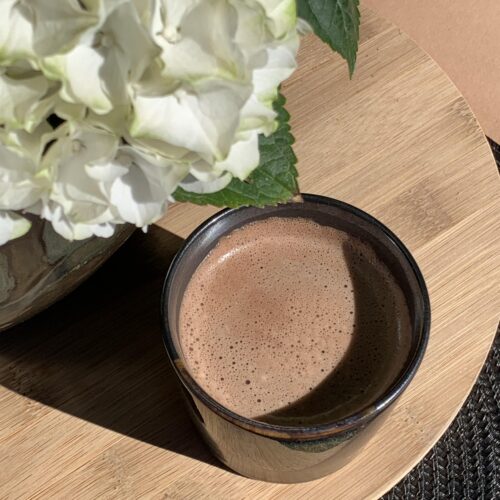 Chaga Hot Chocolate
This chaga hot chocolate is a simple, delicious, natural way to get in your daily antioxidants and boost your immunity. Make it as your afternoon pick-me-up treat or enjoy it in the cold dark night of winter.
Ingredients
1

cup

chaga mushroom tea

1

cup

plant-based milk of your choice

– we used almond

1

tbsp

cacao powder

1

tbsp

sweetener of your choice

– we used agave, but feel free to try out maple syrup, coconut sugar or stevia

1

tsp

cinnamon

1

tsp

coconut oil

1

pinch

salt
Instructions
First you need to brew the chaga tea. Once the tea is ready, remove chaga chunks.

Whilst the tea is still in a saucepan, add on a cup of milk. Bring it up to a gentle simmer.

When the liquids have been warmed up, combine all other ingredients into the saucepan.

Pour the mixture carefully into your blender and blend for 30 seconds. Enjoy warm!
Notes
For added flavour, feel free to sprinkle some cocoa powder onto your drink, and adjust the recipe to your liking.
TASTE OF CHAGA
Chaga has a somewhat earthy flavour with slight bitterness. It also contains a naturally occurring form of vanillin, the same as what is found vanilla bean.
You can drink chaga mushroom straight, but the flavour may take some getting used to. But because it is so dense in nutrients and anti-oxidants, the chaga mushroom lends itself to be a great component when blended with other herbs and spices.
LIST OF MINERALS AND NUTRIENTS FOUND IN CHAGA
calcium, cesium, copper, fiber, iron, magenium, magnese, potassium, rudidium, selenium, vitamin D, zinc.