TEECCINO
Caroline MacDougall, the founder of Teeccino has over 30 years of experience in the herbal products industry. She has designed numerous famous herbal beverages for companies like Yogi Tea Company, Organic India, The Republic of Tea, and more. Let's take a look at Teeccino Chaga beverages.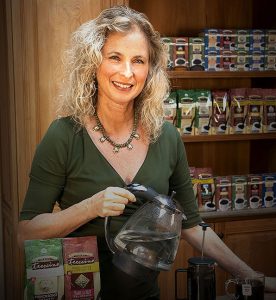 MUSHROOM HERBAL TEA
We tried out the Chaga, ashwagandha and butterscotch cream herbal tea that contains: Carob pods*, chicory root*, ramón seed*, ashwagandha root* (Withania somnifera 1000mg), dates*, Indian sarsaparilla root*, Chaga extract* (wild harvested Inonotus obliquus and mycelium blend: 500mg) organic butterscotch flavor. *

Teeccino is known for their bold and beautiful flavours, and the mushroom herbal tea lived up to its expectations. The Chaga, ashwagandha and butterscotch cream tea is round-bodied, slightly sweet and comforting. Serving the tea with a dash of plant-based milk of your choice turns it into a nice rich treat, that serves your health. It's worth mentioning that all Teeccino flavours are extracted from plants and comply with organic standards.

There are many serving suggestions listed on the Teeccino packaging. The tea can easily be served hot with a dash of plant-based milk, and sweetener as you prefer. Cool it down and serve as an iced tea or use it as an energising smoothie base.
HIGHLIGHTS OF THE PRODUCT:
Added benefit of other herbs included in the tea
All organic and natural ingredients
Teeccino tea bags have more than 3 times the product as regular tea bags to create a full-bodied brew
Natural energy boost – from nutrients not stimulants
Vegan
Certified gluten free
THINGS TO NOTE:
Each tea bag is individually wrapped in an envelope to seal in flavor
Certified 100% compostable tea bag filter paper, Oxygen-bleached.
100% recycled carton: 70% post consumer material.

More about Teeccino

We have yet to try out the Chaga Ashwagandha Butterscotch Cream Mushroom Herbal Coffee, and keen to see what else Teeccino is up to!