This article will compare the Chaga vs Turkey Tail pair. They're both famous functional mushrooms, or perhaps you've heard them being called medicinal mushrooms. Different by nature, like in taste and texture, as well as health-promoting qualities – they share one thing in common, after being extracted they have incredible abilities to support and heal our bodies.
What is Turkey Tail?
Turkey Tail has gotten its name due to the mushroom's fan-like shape, which resembles the tail end of a turkey. Its Latin name translates "of several colors", which is also appropriate, as the mushroom can be easily distinguished thanks to its concentric circles of varying colors that appear on its fruiting body. Turkey Tails are one of the easiest medicinal mushrooms to forage, simply because it grows almost anywhere. No matter whether the hardwood tree is living or dead, fallen or standing, in its full glory or a little stump.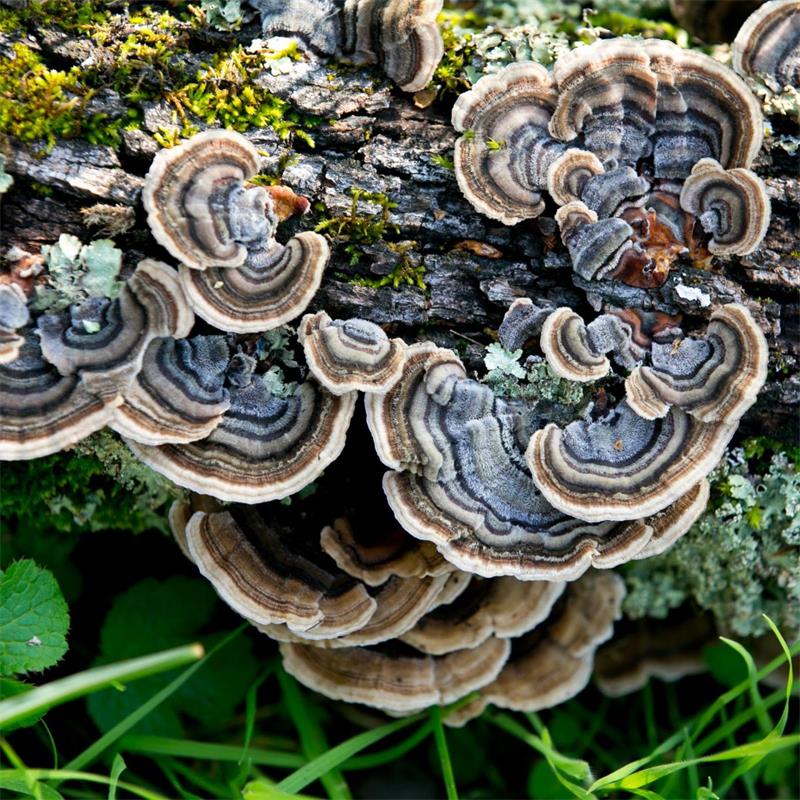 The mushroom's ability to grow almost everywhere is what brought it to the attention of traditional medicine at first. Turkey Tail has even been found growing on pine trees, which are notoriously antifungal trees.
Just like many other functional mushrooms, you'll find Turkey Tail full of polysaccharides and triterpenes, which give it its immunomodulating properties. What differentiates Turkey Tail from other medicinal mushrooms are two unique beta-glucans: polysaccharide krestin (PSK) and polysaccharide peptide (PSP).
The first one, PSK, has received national media attention for its anti-cancer properties, PSP on the other hand is a newer discovery and a very fascinating one! Research claims that PSP is significantly more powerful than PSK. It turns out that in Japan it is a best-selling anti-cancer drug, used in combination with surgery, chemotherapy, and radiation therapy. The mushroom has also proven successful in stimulating the regeneration of bone marrow damaged by cancer treatments, as well as being effective in treating hepatitis C and human papillomavirus (HPV).
Turkey Tail can be recognized for its fanlike shape and multicolored concentric bands (usually brown, dark red, black, or sometimes even blue and green). It's important to remember that the mushrooms are not edible in their natural form but need to be extracted.
Related: Extraction Methods
What is Chaga Mushroom?
Chaga is a polypore fungus that grows mainly on birch trees in cold climates. It grows on living trees, but it is parasitic. This means that the fungal mycelium enters the stem of a mature tree through a crack or a wound in the bark and then starts to absorb and synthesize healthy compounds that we, humans, will consume.
These mushrooms grow best on the outside of yellow and white birch trees. You can find Chaga mushrooms in abundance in the northern hemisphere where it has higher forest altitude, like the northern deciduous forests. Chaga thrives in cold, damp conditions, and has a great tolerance for surviving hard winters.
Natural healers and traditional medicine practitioners have been aware of this mushroom for centuries. Recent scientific studies demonstrate the effectiveness of Chaga in treating a number of diseases and afflictions. The Memorial Sloan Kettering Cancer Center lists the purported uses of Chaga as treating and preventing cancer, stimulating the immune system, reducing inflammation, and protecting the liver.
As mentioned before, these types of medicinal mushrooms are not edible in the standard method. Instead, their properties need to be extracted. The extraction requires prolonged simmering or soaking. This process makes the beneficial components bioavailable to the human body, which means the body can absorb the nutrients.
Related: Chaga Mushroom Extraction Methods
Like Turkey Tail, Chaga has incredible immunomodulating powers. Chaga's polysaccharides, specifically the beta-glucans, have the ability to increase the production of lymphocytes (a type of white blood cells that regulate the immune response to infectious microorganisms and other foreign substances). Chaga is also known as one of the richest sources of antioxidants found in nature. Antioxidants are what protect your body from free radicals, which otherwise would lead to cell degeneration (chronic fatigue, chronic pain, chronic illness, and cancer).
Chaga is also abundant in betulin, which has antitumor and anticancer properties. Betulin produces a derivative called betulinic acid, which is antibacterial, antiviral, anti-inflammatory, and antioxidant in nature, with adaptogenic properties. This is what makes Chaga able to balance and restore your entire system, which can lead you to function at your highest potential!
Related: 5 Benefits of Chaga for Skin Health
Chaga vs Turkey Tail, which one to consume?
As you've read, both of these incredible medicinal mushrooms have the power to help to reverse, suppress and support your body when battling cancer. Whilst Turkey Tail is loaded with special beta-glycans, Chaga is one of the highest natural antioxidant sources in the world. So if you wish to give your health a real boost, we'd recommend getting your hands on both. If you're lucky to be living in areas where both of the mushrooms are known to grow, pack your bags and keep your eyes wide open, there's a big likelihood you'll find both!
Chaga vs Turkey Tail accessibility
When it comes to Chaga, it's important to remember that Chaga gets most of its nutritional value from its host – the Birch tree. The medicinal value of Chaga that has been harvested from trees other than birch may be entirely different. You should especially pay attention to your Chaga being wild harvested, as we've heard of Chaga grown in laboratories.
This has become a bigger issue over the last few years, as Chaga has gained more mainstream popularity. Business motivated corporates are trying to cut corners and grow Chaga faster and more efficiently indoors. This means that your bought Chaga possesses no health benefits but is most likely marketed as a health product.
Turkey Tail, therefore, is famous for being the easiest medicinal mushroom to harvest and the mushroom's ability to grow on different forms of hardwood in many places worldwide. Nowadays it's also possible for you to grow Turkey Tail at home, indoors, using a cultivation bag full of sawdust mycelium.