Because of its co-dependent relationship with birch, Chaga only grows where birch trees do. It is found in Siberia, Russia, northern Asia, Canada, the northern United States (including Alaska), and Northern and Central Europe. Chaga is found only in cold climates. Let's discover Chaga growth and harvesting a little further.
In addition to growing on birch trees, Chaga is also found on alder, beech, oak, but very rarely. These Chaga specimens, though, look different and are not as valuable medicinally as those from birch trees.

---
Can Chaga be grown commercially?
Yes, but it takes years, special climates, and of course, access to living birch trees. And, there is great debate as to whether cultivated Chaga is as nutrient-dense and medicinally viable as wild-foraged Chaga. This is one reason why Chaga is so valued and revered.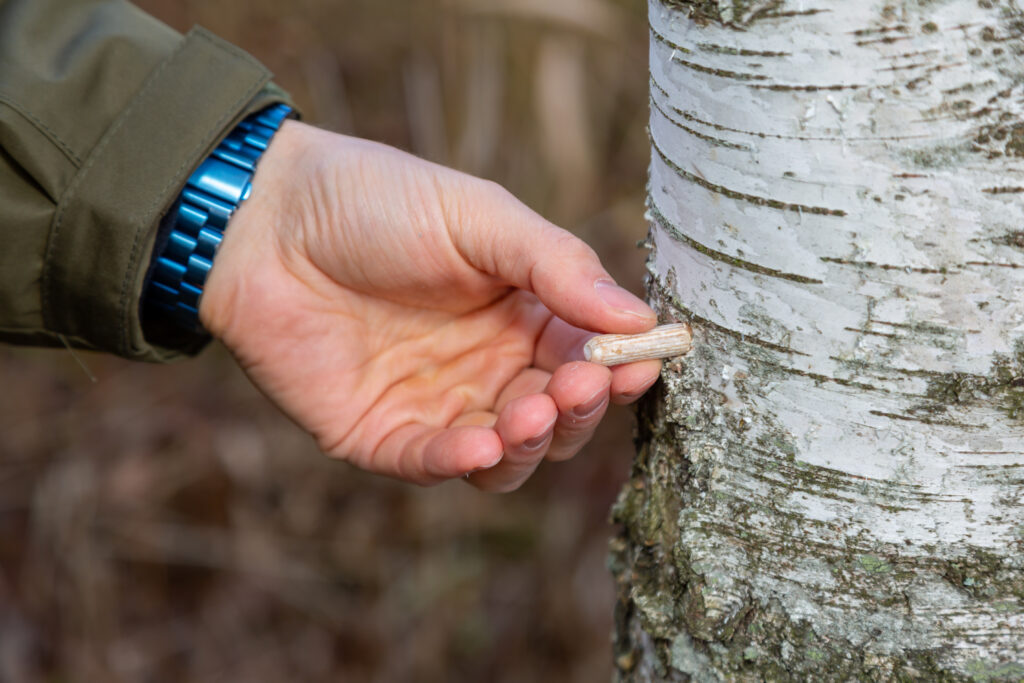 Because of the intricate, unique, and complicated relationship Chaga has with its host tree, it must be wild foraged.
Chaga habitat and foraging guide
First, you must find some birch trees. Stay alert and extremely patient with lots of time for hiking, seeking, and exploring. Only one in 20,000 birch trees will be host to this polypore. Chaga generally only grows on older trees. So, older growth forests are the best place to look. It doesn't grow on every birch tree, though.
Most often, Chaga is found on paper birch (Betula papyrifera), yellow birch (Betula alleghaniensis), and Heart-leaved paper birch (Betula cordifolia). It is not always easy to spot. Its camouflage black surface, which blends in with the black and white birch bark, and the 2-10 meter height range between which the Chaga has planted itself can make it quite tricky to find.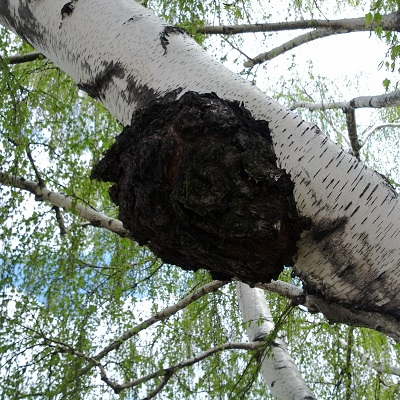 Also, as the Chaga mushroom is a type of fungi that reproduces thanks to spores, it will naturally develop areas where it will be found more or less abundantly. The spores, which are microscopic biological particles, travel through the air and determine the perfect birch bark cracks where new Chaga starts to grow.
When should you harvest Chaga?
Whilst Chaga can be harvested all year round. Depending on where you live, try to wait until spring, when the weather is better for walking, and fewer bugs. Chaga will have had time to defrost and dry from the sunshine, as well as actively absorb more nutrients and minerals from the birch tree's freshly running sap.
There are advantages to harvesting Chaga in the winter, like better visibility and fewer bugs. But we have found that during minus degrees the fungus is often a little frozen, therefore harder to remove.
It's also good to keep in mind that during the wet season, Chaga absorbs moisture, which means that the drying time will be much longer than usual and there's a bigger likelihood for the fungus to get contaminated with mold.

Safe & sustainable Chaga harvesting techniques
If you intend to seek out Chaga in the birch forests of the north, please make sure you fully understand their growing habits and harvest sustainably. Chaga only grows in the wild. If the mycelium is killed, it will not grow back, and Chaga resources will dwindle significantly. Due to its medicinal uses, Chaga is highly valued and very at-risk for being over-harvested. Never harvest any specimens smaller than a grapefruit.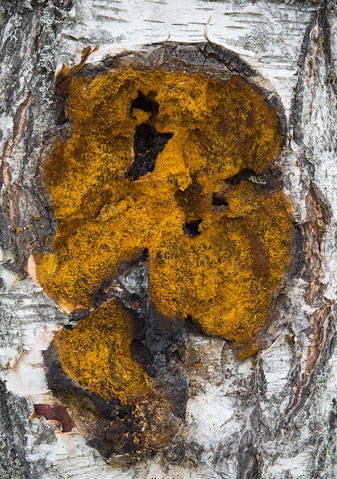 The main thing to understand is the life cycle of Chaga and its host tree. The tree and fungus grow together for decades. When the tree dies, the fungus does as well. However, the fungus takes a while to die completely and has up to six years to find another host. Fungi experts still don't know exactly how the Chaga chooses its next host tree. But, if the entire polypore is harvested, any chance of it regenerating with another tree is lost, and that Chaga is truly finished.
Chaga is harvested from birch trees that are still alive, but not the entire thing. A portion of the fungus must be left behind to keep the tree alive and regenerate. Birch trees that have Chaga can be harvested multiple times if some are left behind to regrow. It takes approximately three years for the fungus to grow again to a harvestable size.
To learn more about the growth and harvesting Chaga sustainably, and why it is so incredibly important, follow the above link.