Since you've stumbled across this article, chances are you've harnessed the healing power of the Chaga mushroom. But unless you're living in the northern hemisphere, and enjoy spending time in forests, it's likely that you've never seen Chaga in it's original form before. So what does Chaga look like, and can you identify the wild fungus in the woods?
Chaga is a black, deeply-cracked conk growing on birch with an unmistakeable golden-orange color and corky feel to it. The fungus itself is a hard, dense polypore mass, that starts growing from the inside of a tree, instead of developing on the surface. As it grows and matures, it protrudes from the tree. Chaga usually plants itself 2-10 meters high on the tree. A mature Chaga polypore can weight up to 4.5kg (10lbs).
How to identify Chaga in the forest?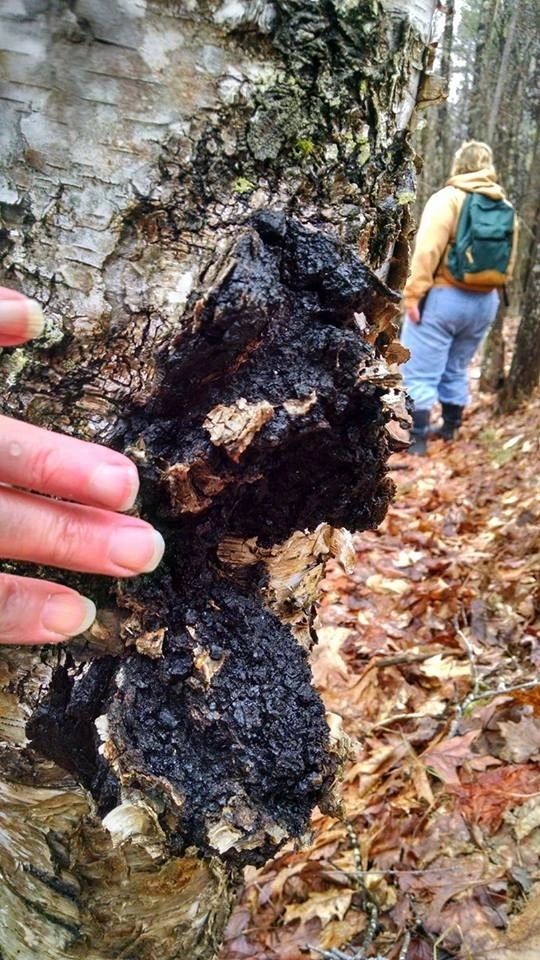 Chaga is a polypore fungus that grows mainly on birch trees in cold climates. It grows on living trees, but it is parasitic. This means that the fungal mycelium enters the stem of a mature tree through a crack or a wound in the bark and then starts to absorb and synthesise healthy compounds that we, humans, will consume.
These mushrooms grow best on the outside of yellow and white birch trees. You can find chaga mushrooms in abundance in the northern hemisphere where it has higher forest altitude, like the northern deciduous forests. Chaga thrives in cold, damp conditions, and has a great tolerance for surviving hard winters.
A large amount of Chaga mushrooms are found in regions like Finland, Estonia, Russia (Siberian Chaga), Kazakhstan, South Korea, Belarus, Canada, Scotland, North America, as well as other Northern and Eastern European countries. Let's find out when to harvest chaga.
How does Chaga fungus look?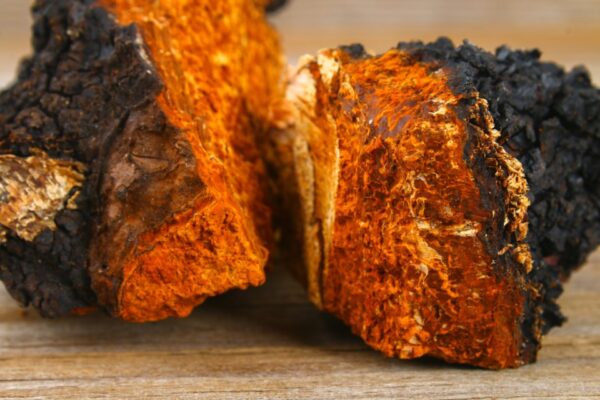 Chaga is a black, deeply-cracked conk growing on birch. It has a burn-charcoal appearance from the first glance with a very warty texture on the outside, and an orange-brown interior. It can at times be brittle, with pieces of the mushroom easily falling off.
Most often, Chaga is found on Paper birch (Betula papyrifera), Yellow birch (Betula alleghaniensis), and Heart-leaved paper birch (Betula cordifolia). It is not always easy to spot due to its camouflage black surface, which blends in with the black and white birch bark. The most common height range between which Chaga likes to plant itself is 2-10 meters.
A fully grown specimen can reach up to 19" tall and wide, with an overhang of 10". It's quite large and noticeable protruding from the side of a birch tree. A mature chaga polypore can weigh up to 10 lbs.
Chaga lookalikes
Luckily there are no poisonous look-alikes to this fungus. So there's no need to worry for your health if you can't seem to make up your mind about the fungi from first glance.
Birch gnarl and burl are tumors on birch trees that are considered Chaga look-alikes. Though they don't contain the same health properties, these tumor growths are popular amongst woodworkers for their beautiful texture.
How to differentiate Chaga from lookalikes gnarl and burls:
It's easiest to differentiate them by the exterior. Birch gnarl is quite smooth and has the same color as the tree. Burls are round to irregular bumps or bulges that develop on tree trunks, its unusual swirling grain pattern found in burls makes them prized by woodworkers. Chaga on the other hand will always have a dark black, burnt-looking exterior, and more likely an unusual shape.
Birch gnarl and burls are part of the three, meaning they'll be very hard to remove. Whilst Chaga can be easily cut with a little ax or a knife.
If you're still unsure, whether you've found Chaga or its look-alike, the final confirmation will be the inside. Unlike the tumors that have formed from wood, Chaga will have an unmistakable golden-orange color and a corky feel to it.

Related: Look-alikes mistook for Chaga
Here's a great video by TheWildYam, hunting Chaga.
Chaga is a black, deeply-cracked conk growing on birch with an unmistakeable golden-orange color and corky feel to it.
Which part of Chaga is edible?
Chaga itself is a hard, dense polypore mass, that's properties need to be extracted. The extraction requires prolonged simmering or soaking. This process makes the beneficial components bioavailable to the human body – meaning the body is able to absorb the nutrients.
When harvesting Chaga you'll need to use a sharp knife or a little saw to cut it off without damaging the tree too much. It's recommended to leave around 40% of the fungus on the tree for sustainable harvesting.
Related: How to harvest healthy Chaga?
Sclerotium the most beneficial part of Chaga
Sclerotium is a precious part of the superfood, containing high amounts of melanin. Sclerotium is the dark black often burnt-looking outer crust of the fungus. Chaga is even known as one of the highest natural melanin sources in the world. It turns out that melanin has high antioxidant levels due to the number of polyphenols it contains, meaning consuming the fungus will keep your cells healthy. In fact, Chaga has the highest Oxygen Radical Absorbance Capacity (ORAC) score of any superfood, ranking three times higher on the scale than acai berries. The research studies are ongoing to discover whether these advantages can be used as the basis for establishing anti-cancer medications from "The king of mushrooms".
RELATED: Health Benefits
Is Chaga really good for you?
Chaga is a natural anti-inflammatory, helps lower blood sugar, reduces blood pressure, alleviates arthritis, and even supports preventing and slowing down the progression of cancer cells.
The mushroom has been famous for its many skin benefits, like helping to regenerate damaged skin cells, and nurturing the skin with enzymes. Due to its high antioxidant value, Chaga helps your body fight free radicals. The antioxidants are found in the outer layer of the mushroom, called Sclerotium, which has a very high melanin content. Which helps to protect your skin from UV damage. Being a natural anti-inflammatory, Chaga has been used in treating many areas of skin inflammation like psoriasis, eczema, allergic rashes, and more.
There are many more benefits of Chaga, for your well-being as well as skin support. What makes Chaga mushroom so incredibly effective in skin health, is the ability to strengthen the skin's own resilience to damaging factors found in nature.
RELATED: 5 Benefits of Chaga for skin health