"The king of mushrooms", otherwise known as Chaga is not your average mushroom. Unlike many other fungi, Chaga starts growing from the inside of a tree, instead of developing on the surface. As it grows and matures, it protrudes from the tree. You'll be able to recognize Chaga by its dark, almost black exterior. Looking like something has burnt on the tree. From the inside, it's a rich orange-brown color with a corky texture.
The scientific name of the Chaga mushroom is Inonotus obliquus. Chaga is not a new discovery early eastern Slavic populations in Europe used it to treat a variety of internal and external issues. The wild Chaga fungus was consumed to treat various health concerns internally and externally.
Chaga mushroom powder is the harvested Inonotus obliquus fungus cut from a tree, then dried, cut, and processed into a powder form, which makes it easy to add the health benefitting mushroom into your diet.
Due to its co-dependent relationship with birch, Chaga mushroom grows in colder climates, where's an abundance of birch trees. Therefore you can find and harvest Chaga in Siberia, Russia, Northern Asia, Canada, Northern United States (including Alaska), and Northern and Central Europe.
How to consume Chaga?
Chaga is a hard, dense polypore mass, that's properties need to be extracted. The extraction requires prolonged simmering or soaking. This process makes the beneficial components bioavailable to the human body – meaning the body is able to absorb the nutrients.
Whilst consuming raw Chaga does no harm other than potentially causing slight digestion problems, it does no good to your body either.
Traditionally, the polypore is broken up into small pieces, then boiled to make tea. The fungus is removed before drinking the tea.
It is also commonly finely powdered, then mixed into foods and liquids. As well as combined with binders to make a salve or medicinal application.
RELATED: Key things to know about Chaga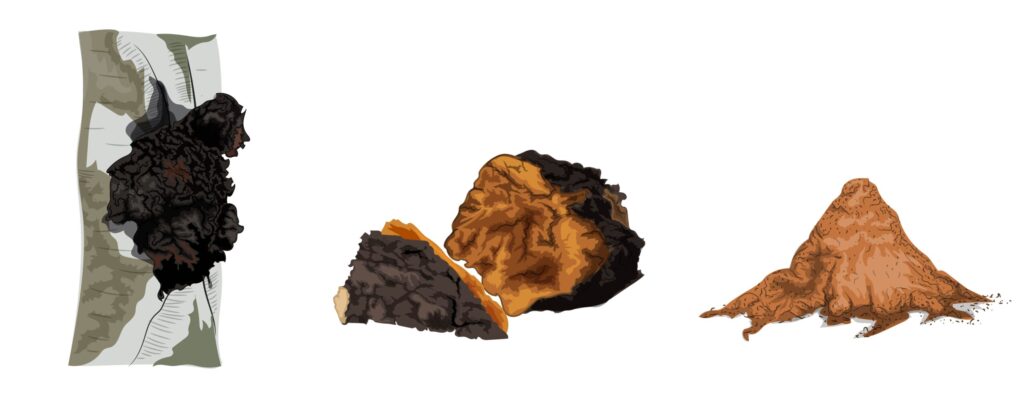 How to make Chaga powder?
While it's not hard to find pre-ground Chaga, a lot of users prefer to purchase chunks to ensure the quality of the product and store it more conveniently. If you harvest your own Chaga or have bought Chaga chunks, it's easy to grind them into powder yourself.
The purpose of grinding Chaga is to allow easy access to the most nutritious part of the fungus, called the sclerotium. In order to draw the most from the mushrooms' nutritional value, it's important to boil ground Chaga or use an alcohol extraction process. Ground Chaga is also easier to use in recipes than dry Chaga chunks.
Grinding Chaga mushroom powder at home
Grinding Chaga at home is easy, especially if you have access to a food processor or a coffee grinder. Simply break the Chaga chunks into smaller pieces, comfortable enough for the tool (depending on its' power). To avoid jamming or damage to the grinder, and let it work its magic. Go over your device's instructions beforehand but grinding Chaga shouldn't be a challenge.

Make sure to be very careful, we have heard stories of Chaga lighting on fire in a coffee grinder before – the mushroom is also known as a tinder fungus.
---

As an alternative to electrical devices, you can use a hand mill or a mortar and pestle. The last one being the traditional way of grinding Chaga.

To grind Chaga with a mortar and pestle, place the chaga chunks in the mortar and then crush the chunks with the pestle. It might be a bit of a workout but make sure to break the chunks into the smallest possible pieces first.
To grind Chaga with a hand mill, you'll need a mill with two blades. A coarse grinder blade to break up the chunks and a fine blade to further refine the ground-up chaga. As for mortar and pestle, you may want to break up the pieces for easier grinding.
While ground Chaga is not required to enjoy the benefits, grinding up Chaga will make it easier to experiment with different recipes and ways to consume the superfood.
Processing raw Chaga
Raw Chaga itself does no harm but Chaga tea should be brewed with dried Chaga chunks or powder. Moisture causes Chaga to lose its nutritional value once harvested from a tree. Being easily exposed to mold, you'll need the fungus to be dried for a longer shelf-life, and in order to risk any health hazards accruing from improper storage.
There are two most prevalent types of mold, the more common one is white mold on the Sclerotium – black outer layer. The second one is a greenish-blue mold in the inner layer. Both develop with improper processing and storage. Chaga with mold on it is not safe for human consumption.
While you may not think that it needs to be dried if you are just going to enjoy a cup of fresh chaga straight after cutting it off a tree, it is unlikely that you are going to use all your harvested chaga at once.
Related: How to harvest healthy Chaga?
If you don't have access to the raw fungus, there are quite a few companies nowadays selling chaga mushroom powder, tinctures, coffees, teas, and supplements. Most health food stores have chaga available in some form. Before you buy from a store or online, be sure you trust the company and their harvesting practices.