A large amount of Chaga mushrooms are found in regions like Finland, Estonia, Russia (Siberian Chaga), Kazakhstan, South Korea, Belarus, Canada, Scotland, North America, as well as other Northern and Eastern European countries. But how exactly can you find Chaga in the woods?
These mushrooms grow best on the outside of yellow and white birch trees. You can find Chaga in abundance in the northern hemisphere where it has higher forest altitude, like the northern deciduous forests. Chaga fungus thrives in cold, damp conditions, and has a great tolerance for surviving hard winters.
To find Chaga in the woods, it's important to have time and patients. Only 1 in 20,000 birch trees will be host to this polypore. Chaga generally only grows on older trees, therefore older growth forests are the best place to look. Keep an eye out since it's easy to miss the fungus due to its camouflage black surface that blends in with the black and white birch bark.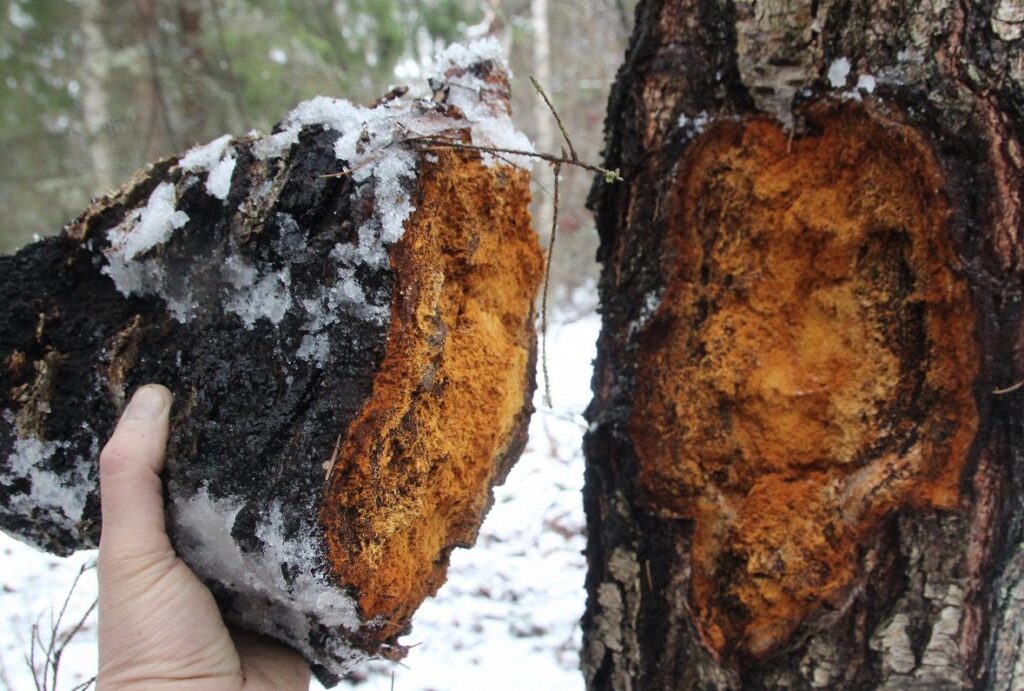 Unlike many other fungi, Chaga starts growing from inside the tree, instead of developing on the surface of the tree. As it matures, it protrudes from the tree. The exterior of Chaga is very dark, almost black, and looks like something that has been burnt. The inside of Chaga is a rich orange/brown colour with a corky texture.
Which trees does Chaga grow on?
These mushrooms grow best on the outside of yellow and white birch trees. If you think that you've found Chaga on trees like oak, cherry, or poplar, you might be mistaking the fungus with a burl. Unfortunately, the Chaga's that have been planted on other threes don't seem to have the same health benefits as the ones growing on birch. Since a lot of the healthy compounds and nutrients it contains are produced from birch trees and their sap.
Unlike many other fungi, Chaga starts growing from inside the tree, instead of developing on the surface of the tree. As the fungus matures, it protrudes from the tree.
The average height range between which Chaga likes to plant itself is 2-10 meters.
Note that Chaga mushroom is a type of fungi that reproduces thanks to spores, therefore once you've found one, it's most likely that there are more growing in the area. The spores are microscopic biological particles, that travel through the air and determine the next suitable birch bark cracks where a new life cycle for the fungus begins.
How to differentiate Chaga lookalikes?
Birch gnarl and burls are tumors on birch trees that Chaga is often mistaken for. Though they don't contain the same health properties, these tumor growths are popular amongst woodworkers for their beautiful texture. You'll be able to recognize Chaga by the following tips.
It's easiest to differentiate them by the exterior. Birch gnarl is quite smooth and has the same color as the tree. Burls are round to irregular bumps or bulges that develop on tree trunks, its unusual swirling grain pattern found in burls makes them prized by woodworkers. Chaga on the other hand will always have a dark black, burnt-looking exterior, and more likely an unusual shape.

Birch gnarl and burls are part of the three, meaning they'll be very hard to remove. Whilst Chaga can be easily cut with a little ax or a knife.

If you're still unsure, the final confirmation will be the inside. Unlike the tumors that have formed from wood, Chaga will have an unmistakable golden-orange color and a corky feel to it.
Related: Look-alikes mistook for Chaga
When to pick Chaga mushroom?
Whilst wild Chaga can be picked all year round. Depending on where you live, try to wait until spring when the sap starts to run. Sap is the fluid found in Chaga, containing dissolved mineral salts and nutrients, that are absorbed by the mushroom.
There are advantages to harvesting Chaga in the winter, like better visibility and fewer bugs. But we have found that during minus degrees the fungus is often a little frozen, therefore harder to remove.
It's also good to keep in mind that during the wet season, Chaga absorbs moisture, which means that the drying time will be much longer than usual and there's a bigger likelihood for the fungus to get contaminated with mold.
The ultimate best time to pick Chaga is in spring, you'll get the advantage of smaller leaves, warmer weather yet fewer bugs. The Chaga will have absorbed fresh minerals and nutrients from the running sap, has had time to defrost, and dry from the sunshine.
Related: How to harvest healthy Chaga?
Where to harvest wild Chaga?
Chaga is prone to absorbing different pollutants around it, which is why it's important to avoid polluted areas like busy roadsides, forests close to factories, cities, and railroads. This is why a lot of people are skeptical about the consumption of Siberian Chaga. The general principle is that the deeper to the forest you go, the higher the quality of your mushroom, meaning the more health benefits you'll gain.
Chaga will only stay alive and sterile whilst the host tree is living. Meaning that once the birch tree has died, the Chaga mushroom has died along with it and will only develop fruiting bodies to start another life cycle. That's why trusting your supplier's integrity to provide you with living, high-quality Chaga is very important.
During the growing seasons, you can tell from the leaves of the tree. However, if you're finding it hard to distinguish a dead tree, look for the following signs:
No winter buds or leaves
Many mushrooms on the tree
Big rotten branches, with a portion of them fallen off
The tree is less hard (test it by touching and knocking on the wood)
Key takeaways
To find Chaga in the woods you need to take time for exploring. If you're living in an area where Chaga grows, try to find an older forest with an abundance of birch trees and keep your eyes high on the trees (2-10m). Look for a burnt black growth on the birch bark.
Try to stay away from polluted areas, and certainly don't harvest Chaga from a dead birch tree, unless you're planning to use it as a tinder fire. The deeper in the forest you are, the healthier the Chaga. If you've come across one, know that there are many more growing in the near distance.