Chaga (Inonotus obliquus) is a fungus, mainly growing on birch trees in Northern Europe, Eastern Europe, Asia, Canada, and the Northeastern United States. It's historically known to be used in folk medicine since the 1500s. Chaga contains massive amounts of the pigment melanin, therefore in exposure to sunlight, the exterior of the mushroom will turn deep black, while the interior will stay a bright orange color.
Chaga is known as one of the highest natural melanin sources in the world. It turns out that melanin has high antioxidant levels due to the number of polyphenols it contains. Meaning consuming Chaga will support your cells and help to keep balanced levels of melanin in the body.

The mushroom is famous for its various health benefits, the fungus contains a large number of polysaccharides in the form of β glucans, which are strong antioxidants. Which helps to fight off free radicals and maintain a normal cell cycle. They also act as prebiotics stimulating the growth of healthy gut microbiota. Chaga is among the richest sources of melanin. On the Oxygen Radical Absorbance Capacity (ORAC) scale, Chaga is an ultra-potent source of antioxidants and is naturally rich in betulinic acid.
On a cellular level, Chaga benefits your health by assuring normal vital functions.

What is melanin?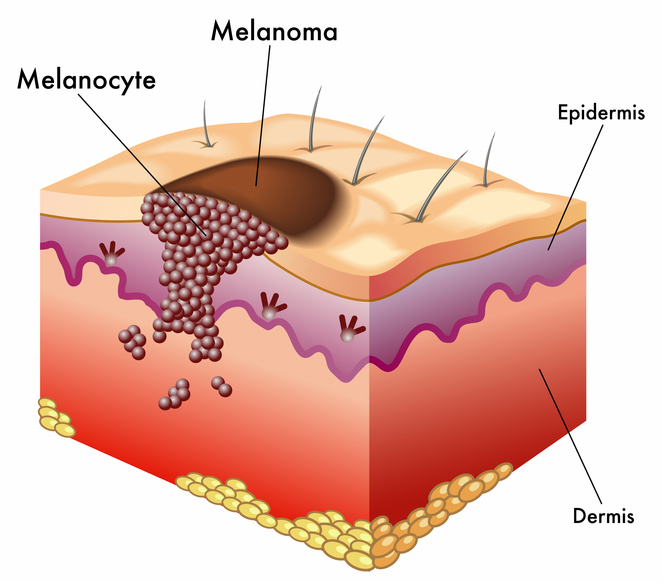 We all have something in our skin called melanin, the pigment responsible for our beautiful variety of skin tones and shades, eye colors, and hair colors. However, when we discuss melanin, that discussion rarely includes its actual biological benefits.

The cells in our epidermis that make melanin are called melanocytes. It turns out that everyone has the same number of them but the pigment of your skin, eyes, and hair color is determined by which kind of melanin and how much of it these cells produce. Your body's natural production of melanin is based on your genetics.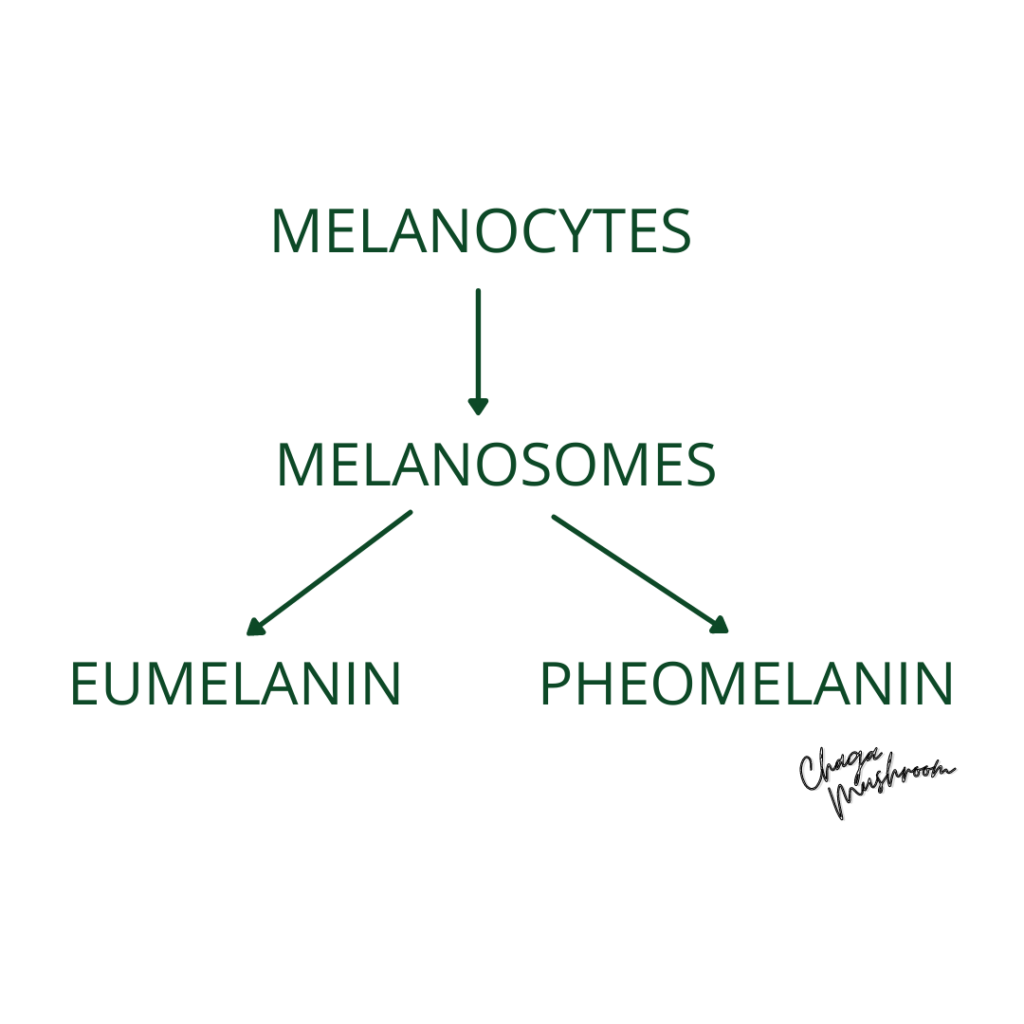 Inside the melanocyte are melanosomes, which are responsible for producing the two kinds of melanin.
1) Eumelanin – a darker pigment
2) Pheomelanin – a light-colored pigment
Skin cancer and melanin
Eumelanin, the darker pigment blocks UV photons from damaging the skin. Meaning people with lighter-colored skin are at a higher risk of sun damage. Overall the more melanin your body produces, the more protection you have from the sun's harmful rays, and the lower your risk for skin cancer.
According to Skincancer.org skin cancer is the most common cancer worldwide.
1 in 5 Americans will develop skin cancer by the age of 70.
More than 2 people die of skin cancer in the U.S. every hour.
Having 5 or more sunburns doubles your risk for melanoma.
As much as protecting yourself from direct sun exposure can be managed in various ways, researchers are looking into increasing the levels of eumelanin in people at a higher risk of developing skin cancer.

To learn more about the recent discoveries to increase melanin production, check out this video!
Melanin in chaga to the rescue
Despite the melanin state in your body, research has actually shown that Chaga mushroom supports healthy and balanced levels of melanin in the body.

The sclerotium, otherwise known as the dark, almost black outer layer of Chaga contains massive amounts of melanin. Chaga is even known as one of the highest natural melanin sources in the world. It turns out that melanin has high antioxidant levels due to the number of polyphenols it contains, meaning consuming the fungi will help to keep your cells healthy. In fact, Chaga has the highest Oxygen Radical Absorbance Capacity (ORAC) score of any superfood, ranking three times higher on the scale than acai berries. The research studies are ongoing to discover whether these advantages can be used as the basis for establishing anti-cancer medications from "The king of mushrooms". If you're interested in learning more about the health benefits of Chaga head over to our post "Health Benefits".

How to consume chaga?
Raw Chaga technically does no harm but Chaga tea should be brewed with dried Chaga chunks or powder. Moisture causes Chaga to lose its nutritional value once harvested from a tree. Being easily exposed to mold, you'll need the fungus to be dried for a longer shelf-life, in order to risk any health hazards accruing from improper storage.
Chaga loses some of its nutrients when boiled but heating, on the other hand, expands the cell walls of the Inonotus obliquus. Which allows for more nutrients to become bioavailable and produce a stronger healing potion. So the key to a good Chaga tea is letting it simmer and steep over a longer period of time. If you're curious about this topic or would like to see our favorite Chaga tea brewing method, check out our article: "Does boiling Chaga ruin it?".
A chaga tincture, otherwise known as an extract, is the most concentrated way to consume the mushroom.

– chagamushroom.co.uk team
Chaga Extract
Like with all tinctures, alcohol is used as your soaking agent for Chaga extract. The mushroom is combined with alcohol and soaked for a set period of time, quite often months. Once it's ready, you`ll remove the Chaga, leaving a concentrated extract.

The most potent extract method is called double extraction. That's because both, hot water extraction method and alcohol are used. That's because alcohol alone cannot break down the chitin walls.
For a step-by-step guide, check out our Chaga Tincture | Double Extraction recipe.
Where to find chaga?
Chaga thrives in cold, damp conditions, and has a great tolerance for surviving hard winters. You can find the mushrooms in abundance in the northern hemisphere where it has higher forest altitude, like the northern deciduous forests.
Unlike many other fungi, Chaga starts growing from inside the tree, instead of developing on the surface of the tree. As it matures, it protrudes from the tree.
Harvesting chaga
Ultimately the best time to harvest Chaga is during fall or winter when the visibility is better, due to fallen leaves and the temperature is below 5 degrees Celsius. That is when the sap starts to run. Sap is the fluid that is found in the fungi, containing dissolved mineral salts and nutrients.

If you're planning to go Chaga hunting yourself, "Best time to harvest Chaga" contains more tips and tricks on how to prepare.
Buying chaga
Nowadays you`ll be able to find various different companies, products, and suppliers of the mushroom. The is between teas, coffee powders, extracts, supplements, and a lot more.

Three product groups you'll find most, are the following:
1. Powder
Chaga powder is the chunks of the fungus grounded, that are used to make tea, broth, tincture, and more. For more inspiration, check out our recipes.
2. Dual extract
Dual extract stands for the double extraction method. When done right, this is the most potent Chaga product available, taking quite a bit of time and effort to make (which reflects in the price).
3. Dried chunks
By that, we mean raw harvested Chaga that has been cut into pieces and dried. You'll be able to grind the chunks in a food processor or a coffee grinder yourself. The benefit of dried chunks to purchasing a powder is the quality assurance. Like being able to check if the outer layer – sclerotium is still intact to support your melanin levels and cells. Dried Chaga chunks can also be reused up to 5/6 times before losing their potency.

If you're interested in Alchemy, physics, healing your body, or turning dirt into gold –
check out this fascinating video by Garrett Kopp!

References
https://universityhealthnews.com/daily/cancer/melanomas-can-affect-all-races/
https://www.skincancer.org/skin-cancer-information/skin-cancer-facts/
https://www.healthline.com/health/skin/benefits-of-melanin#definition
https://www.researchgate.net/profile/Na-Bisko/publication/269620262_Melanin_Complex_from_Medicinal_Mushroom_Inonotus_obliquus_Pers_Fr_Pilat_Chaga_Aphyllophoromycetideae/links/59a3d4fbaca2726b902e691b/Melanin-Complex-from-Medicinal-Mushroom-Inonotus-obliquus-Pers-Fr-Pilat-Chaga-Aphyllophoromycetideae.pdf