A large amount of Chaga mushrooms are found in regions like Finland, Estonia, Russia, Kazakhstan, South Korea, Belarus, Canada, Scotland, North America, as well as other Northern and Eastern European countries. Let's find out when to harvest Chaga.
These mushrooms grow best on the outside of yellow and white birch trees. You can find Chaga mushrooms in abundance in the northern hemisphere where it has higher forest altitude, like the northern deciduous forests. Chaga thrives in cold, damp conditions, and has a great tolerance for surviving hard winters.
There are cases of Chaga being thought to grow on trees like oak, cherry, beech, alder, and poplar. Studies have not been done to investigate the contents of the fungi from these trees. However, we can assume that because many of the beneficial compounds found in Chaga are unique to birch trees, harvesting it from other species will not have the same health benefits.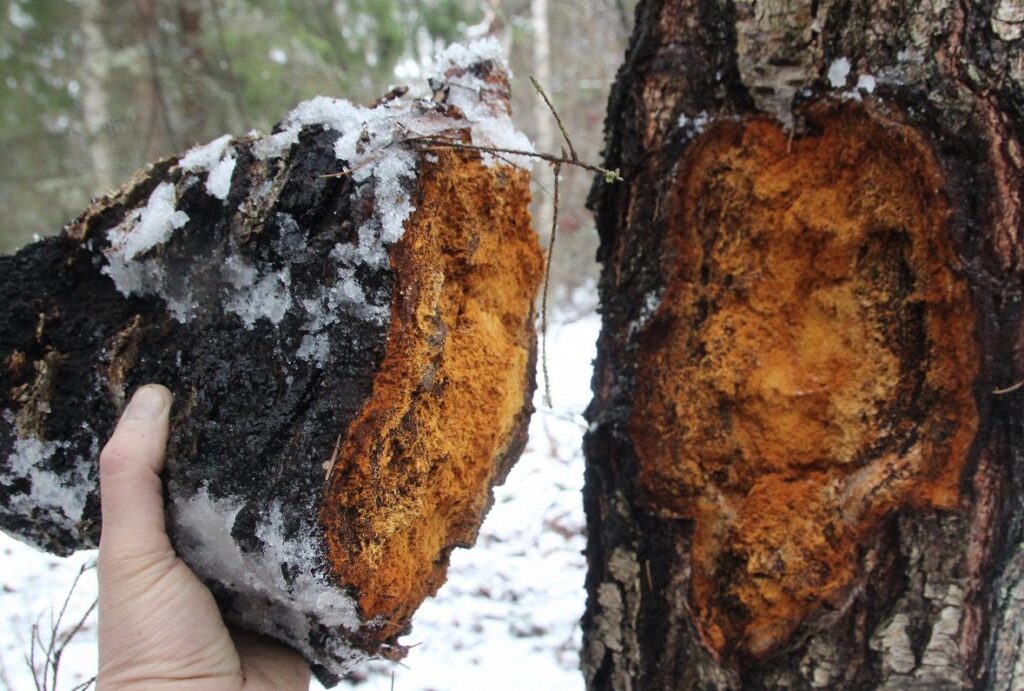 Unlike many other fungi, Chaga starts growing from inside the tree, instead of developing on the surface of the tree. As it matures, it protrudes from the tree. The exterior of Chaga is very dark, almost black and looks like something that has been burnt. The inside of Chaga is a rich orange/brown colour with a corky texture.


WHEN TO HARVEST
Ultimately the best time to harvest Chaga is during fall or winter, when the visibility is better, due to fallen leaves and the temperature is below 5 degrees Celsius. That is when the sap starts to run. Sap is the fluid which is found in Chaga, containing dissolved mineral salts and nutrients.
HOW TO HARVEST CHAGA
Here are tools you want to bring with you when going Chaga "hunting". Keep in mind the average diameter of Chaga is 10 to 20 centimeters, depending on the maturity of the fungi.
A basket, container or a bag
Axe or an hatchet
Saw
Sharp knife
Never harvest immature Chaga, it takes up to 20 years for the fungi to be considered fully mature. So make sure to only harvest what you need and try to avoid the younger growths. Always leave about 20% of the Chaga in the tree, this allows the sclerotium to grow back.