As we have discovered the background of Chaga and its uses, there's no doubt that using Chaga in a form of a topical treatment like cream or consuming the fungus as tea or tincture brings you many health benefits. Historically Chaga mushroom has been prescribed for many ailments, like cancer, bacterial infections, tuberculosis, heart disease, parasites, and it has also been popular as a topical application for skin diseases. A czar in 12th century Russia had even credited the application of a Chaga decoction for the disappearance of his lip tumors.
What makes Chaga so special?
The mushroom contains a large number of polysaccharides in the form of Beta-glucans, which have a strong antioxidant activity inside your body. These compounds help fight off free radicals, maintaining a normal cell cycle. They also act as prebiotics to stimulate the growth of healthy gut microbiota.
On the Oxygen Radical Absorbance Capacity (ORAC) scale, Chaga is an ultra-potent source of antioxidants and is naturally rich in betulinic acid. On a cellular level, Chaga benefits your health by assuring normal vital functions, that are easily disturbed by today's external causes.
Here's a list of some minerals, vitamins, and nutrients found in the Chaga mushroom:
Calcium, Cesium, Copper, Fiber, Iron, Magnesium, Manganese, Potassium, Rubidium, Selenium,
Vitamin D, Zinc
All that makes Chaga great for skin support and the application of it can be extremely beneficial for anyone suffering from different skin conditions like acne, allergic reactions, dermatitis, rosacea, different causes of itching (like bug bites), eczema, psoriasis, rashes to name a few.
RELATED: 5 Benefits of Chaga for skin health
Different extraction methods of Chaga
Let's have a closer look at the individual extraction methods and their effect on making micronutrients in Chaga bioavailable for the human body. There are three most common extraction methods for Chaga – water extraction, ethanol extraction, and dual extraction. Each method produces tinctures with different micronutrient content.
Water-soluble compounds
Hot water extracts deliver high levels of melanins, polyphenols, polysaccharides, and beta-glucans. The benefits include, but are not limited to stimulation of the immune system, antiviral properties, healthier skin, hair, and nails. Water extraction is a rich source of antioxidants, protecting against UV radiation and oxidative stress caused by free radicals. It's a great source of essential minerals, vitamins, and amino acids for a daily health boost. Therefore hot water extracts are considered the best to use in skincare – remember that when making your Chaga cream.
Water-insoluble compounds
Alcohol aka ethanol extraction delivers higher levels of triterpenes, therefore also sterols, and lignin, which are some of Chaga's most significant characteristics, including anticancer activity, immunomodulatory activity, inflammation management, and the facilitation of healthy cell regeneration.
Dual extracts
The best extraction method is believed to be the dual extraction, that Chinese companies started to sell in the early 2000s. As the name suggests, the dual extract is a mix of water and alcohol extraction. Chaga double extraction recipes that include heating the Chaga are considered stronger, more potent options. Heating expands the cell walls of the fungus, allowing for more nutrients to become bioavailable and create a stronger healing potion including both heat-activated and alcohol-soluble compounds.
RELATED: What's the best Chaga extraction method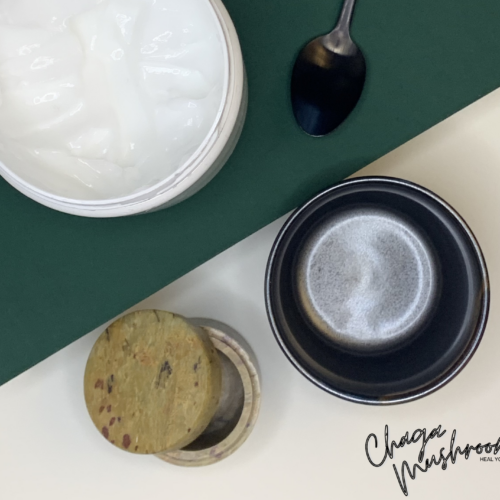 DIY Chaga Cream
A simple guide to make Chaga cream affordably at home, using a base cream of your choice.
Ingredients
4

tsp

base cream

Make sure to use a hypoallergenic, fragrance free, and paraben free cream.

2

tsp

Chaga extract

For a daily cream, it's best to use water extract.
Instructions
Add four teaspoons of base cream into a mixing bowl.

Pour in two teaspoons of Chaga extract.

Mix until the consistency is nice and even.

Store in a clean container, and use within a few weeks.
Notes
This is a Chaga base cream recipe, so feel free to add a few drops of essential oils or serums into the mixture and adjust it to your liking.
The recipe makes for 25ml of product, which is on average the amount of cream used to cover the entire face, as well as your neck and decollete in two weeks. Adjust the quantities of the recipe according to your desired amount. 
It's best to use the product within a few weeks. Keep the Chaga cream refrigerated, to ensure the freshness of the product and give your skin a nice cooling effect. 
Chaga cream key takeaways
Making Chaga cream at home can be as simple as mixing the extract into a high-quality neutral base cream. The benefits of Chaga for your skin are no longer exclusive to luxury products or treatments.

There are three most common extraction methods for Chaga (water extraction, ethanol extraction, dual extraction), each produce tinctures with different micronutrient content. As a topical treatment, especially in delicate areas like your face, try to avoid ethanol extractions as alcohol has a tendency to dry out your skin.

Therapeutic effects of essential oils are highly appreciated but when adding them to your recipe, don't forget that they're highly concentrated essences that can cause skin damage and irritation.